Highlight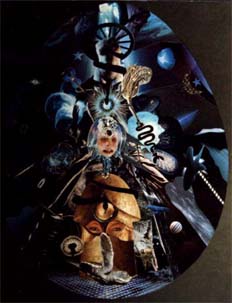 I am by no means a scholar of tarot, nor a particularly proficient user of the cards, however, I obtained my first pack 20 years ago now, and an still fascinated by their mysteries. I have learned that not only are they a "quantum uncertainty receiver", (or perhaps "a synchronistic navigation device"), but also a mystery teaching, a story in whose depths can be discovered secrets encoded by many generations of seekers of wisdom.
"Go ahead, said the Demon,
weave your magic circle and initiate each other,
I will not enter into your philosophy.
Not true, not true, not true, said I,
for you are the centre of our circle
and your vision is most wise-
As every Fool is a Magician,
and every Demon is an Angel in disguise!"

-- Narada
---
Deeper

The tarot Fool is traditionally numbered 0, and represents the new born innocence., unaware of distinctions between inside and outside. The Fool's egg represents the moment of conception, or perhaps even the myth of the big bang, however we choose to perceive the ultimate threshold between being and non- being. Archetypes, (and the tarot is nothing if not a gallery of archetypes), are symbols that have meaning for all human beings. They are the shared fundamental experiences of human life, the themes and characters that are used to weave all our experiences. They are similar to Plato's "ideas" that are more real than the shadow substance of temporal "reality".

In the primary distinction between Self and Other the egg of Zero divides and becomes One and Two. And from this first distinction grow the manifold others, like an infinite tree from an infintesimal seed. Once there is One, then in contrast to nothing-there are Two. When there are Two, then there is also the relation between them, and so there are Three. When there is a relation between the inside and outside, then there is the "inner/outer" and the "outer/inner" implied and so there are Four. Once the concept of "Twoness" has begun it must naturally be repeated to infinity.

ADDITIONAL COMMENTS: The numbers 0,1,2,and 4, have appeared many times in game 1. The core wave evokes all the yin/yang dualities, and moves such as the Cross, and the Serpinski Seed group of moves have develop the theme of four directions/dimensions. These numbers are also very important in the tarot, 0 and 1 being the Fool and the Magician, and each trump thereafter being a polarity with the one before. The 4 suits being a distinction on different levels of various quaternary systems of analyzing existence.
-
Wands Cups Swords Discs
Fire Water Air Earth
Human Animal Vegetable Mineral
Intuitive Emotional Mental Physical
Old Female Male Young


-- Narada
---
Follow Ups

Very Castalian, Narada. I see this entry as the flower of the Bead Game, the spirit of Hesse's Chinese Garden from which all our efforts here spring, and to which, perhaps, they all return. The four directions of the cross/four winds/arms of the compass, reorienting themselves endlessly to encompass all. The infinite, still center of the Serpinski Seed generating all.
-- Connie McLellan

When I was a kid I would always tell myself that "infinity = zero." This was something for which I may not have had the best phrasing, but I was profoundly sure it represented somthing true. I was thinking more of the zero of the circle and the snake eating its own tale as opposed to the more modern zero which represents "nothing." When you have infinity you've got everything which means you've got the one big totality. The one totality of origin. The one seed from which all life originates and the seed which all of life returns to create. As it is described in Kabbalistic texts: "a fruit tree yeilding fruit which contains the seed of its self." "Infinity" also breaks down to "in-finite" which is interesting because it seems we can only concieve of something beyond the finite "in finite" terms.
-- Robert C. Cohen