The Outer Game
---
[ Follow Ups ] [ Post Followup ] [ Back to Submissions Forum] [ FAQ ]
---

(FS) Red Line paintings by B. Rabinovitch Posted by Robert Carrillo Cohen on January 23, 1997 08:00:00:
TITLE: The Red Line
DEFINITION: Series of paintings
CREATOR: Bill Rabinovitch
MAIN CATEGORY: Art
ALTERNATIVE CATEGORIES: belief, communications, community, belief, tools
RELATIONSHIP TO THE CORE WAVE: Are we the most present when we are absent? Can art be created from beyond our inner experience?
MAIN QUOTE: " I am fundamentally interested in conveying a sense of pain and struggle about life, art and relationships between men and women, tempered with my native ability to find beauty in the ashes." -- Bill Rabinovitch
HIGHLIGHT QUOTES: "The warm happy colors I choose often contradict the underlying emotions I wish to convey." -- Bill Rabinovitch
HIGHLIGHT RECOMMENDATION: I first met Bill in an esoteric bookstore in Manhattan. We talked about Fred Wolfe's book The Eagle's Quest which related physics and shamanism. Bill was originally a mechanical engineer and a jet pilot. Bill is prolific. He paints, creates computer animation, and produces a cable access show on art in Manhattan. I went to his studio with my girlfriend and I swear I've never met a more receptive artist. He asked question after question about the impact and our response to dozens of different giant paintings. Occasionally he would stop and instantly make a change to one of the paintings. I was amazed. Artists in my experience are not usually so selfless.
I like the way Bill uses the word "astonishing" all the time. I sense a definite optimism
to Bill and his work. In many but not all of Bill's paintings, Bill seems to have "gone somewhat away" as the painter and as a result incredible spiritual type beings seem to emerge on the canvas from some other place.
DEEPER: Bill said, "My paintings break away from things as they are, in order to show figures and events in process." I think one of the reasons Bill is so open about his art is that he doesn't contemplate his paintings so much as finished objects but rather as a process that is constantly revealed, even in a finished painting. I'm not talking about process like the splash art of a Jackson Pollock but process as a marriage of linear and non-linear time
on the canvas.
Art critics and dealers haven't given Bill tremendous attention and I think it is because they find something missing in his work. I think what they find missing is any familiar kind of art theory. I think when critics shifted the focus of the art world to art theory that in a sense they took art off the gold standard. The value of a painting for me is not in its relation to some abstract idea or standard. Art like ancient money was valuable because it had some kind of spiritual value. I have seen Bill's painting process open up to spiritual values and the animate results come flowing through on the canvas.
CONNECTIONS: Currently none (but one to Chaos theory if and when it is in the Game.)
IMAGES AND CLIPS: Scans of Bills art are listed in the Optional Image URL field.
ACCESS AND DISTRIBUTION: 100ís of Billís painting are available to purchase directly from the artist.
Bill's article on "How Being a Jet Pilot Prepared Me for a Life in Art" is accessible at ArtNet Magazine (http://www.artnet.com/magazine/features/rabino/rabino4-30-96.html) and includes a number of scans of Bill's art. Urban Desires has an on-line gallery of Bill's paintings in what they call an Art Tunnel (http://www.desires.com/1.5/Art/Docs/horse.html).
ADDITIONAL COMMENTS: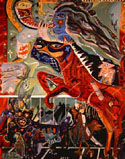 ---
---