The Outer Game
---
[ Follow Ups ] [ Post Followup ] [ Back to Submissions Forum] [ FAQ ]
---

(FS) Blue in Green jazz by Miles Davis Posted by Molly E. Holzschlag on January 23, 1997 11:00:00:
TITLE: Blue in Green
DEFINITION: Jazz Improvisation
CREATOR: Miles Davis
MAIN CATEGORY: Music
ALTERNATIVE CATEGORIES: art, consciousness, listening, science
RELATIONSHIP TO THE CORE WAVE: Is music a process of spirit or science
MAIN QUOTE: The complexity of jazz is merely an expression of the simplicity of nature -- Molly Holzschlag
HIGHLIGHT QUOTES: "Blue in Green is a 10-measure circular form following a 4-measure introduction, and played by soloists in various augmentation and diminution of time values"
"Miles conceived [Blue in Green] only hours before the recording . . . therefore you will hear something close to pure spontaneity in these performances. The group had never played these pieces prior to the recording."
"Miles presents the framework necessary to stimulate individual expression to achieve
a sublime result." -- Bill Evans
HIGHLIGHT RECOMMENDATION: Blue in Green is one of the most simultaneously sad and glorious pieces of music I have ever heard. Jazz is sometimes difficult for me to access, but Miles Davis is one of the rare few who, along with John Coltrane (who appears with Miles in the "Kind of Blue" session), make me understand how the complexity of jazz is merely an expression of the simplicity of nature. It is both astonishing and logical that certain artists can spontaneously express what is a perfect mathematical expression. In its clinical form, it appears as a specific pattern of numbers, while in its sublime form--a blueprint of emotion capable of moving hearts to tears and spirits to soaring.
DEEPER: It is through exercises such as Miles Davis' Blue in Green that I am convinced science (math), music, and emotion are the same thing--suggesting no separation between mind (perceived as esoteric) and body (embodiment of the empiric).
CONNECTIONS: None yet
IMAGES AND CLIPS: A scan of the album cover is linked in the "optional image url" field.
ACCESS AND DISTRIBUTION: The song Blue in Green written by Miles Davis and Bill Evans is most commonly found on the album Kind of Blue published by Columbia Records.
A Miles Davis web site Milestones. The Indiana University School of Music has a Miles Davis discography .
ADDITIONAL COMMENTS: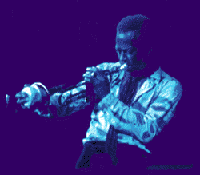 ---
---