The Outer Game
---
[ Follow Ups ] [ Post Followup ] [ Back to Submissions Forum] [ FAQ ]
---

(FS) Big in Japan PRODUCTION - Juxtaposition Posted by Robert Carrillo Cohen on January 23, 1997 17:00:00:
TITLE: Big in Japan
DEFINITION: Juxtaposition
CREATOR: Robert Carrillo Cohen
MAIN CATEGORY: PRODUCTION: Juxtaposition
ALTERNATIVE CATEGORIES: Not applicable
RELATIONSHIP TO THE CORE WAVE: Buddha builds inner truth? Godzilla destroys fictional Tokyo?
MAIN QUOTE: TEXT TO GO WITH PICTURE:
THE MATCH UP:
GODZILLA: Body armor, radioactive energy, breath weapon, super strength, massive size, high intelligence, tail whip, claws, teeth, and charisma.
BUDDHA: Reincarnates, simultaneous manifestations, very calm, has consciousness in such a high connection with the universe that reality is easily altered, high intelligence, super strength, charisma, and big big love.
Buddha seems to have a pretty heavy advantage with the reincarnation angle, but Godzilla's been known to surface again and again after death seemed a certainty. Both are legendary -- in fame and for being misunderstood. Perhaps side by side or working as a team they could become better understood.
HIGHLIGHT QUOTES: na
HIGHLIGHT RECOMMENDATION: na
DEEPER: na
CONNECTIONS:
IMAGES AND CLIPS: right here posted through "optional image url" field
ACCESS AND DISTRIBUTION: This is it. The whole thing.
ADDITIONAL COMMENTS: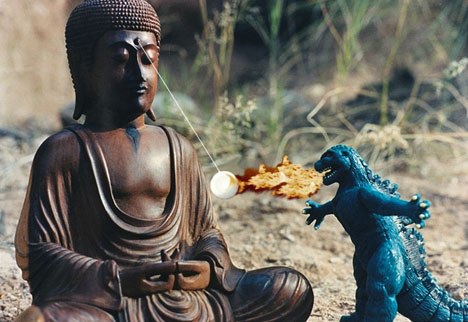 ---
---