Glass Bead Game II. The journey begins here.
January 17, 1999. Game II is complete.
The CoreWave team would like to extend a big THANK YOU for another successful Game. You have helped us create a provocative and thoughtful work of art. A symphony of ideas. Below is a preliminary visual representation of Game II which maps all the moves in the Inner Game and their connections. The completed image will serve as navigation for Game II.
See the Main Map for a list of, and links to, all the Inner Game moves.
Watch here for a link to the completed Map,
and stay tuned for online planning for Game III, coming soon.
CONGRATULATIONS!
Let The Festivus Begin!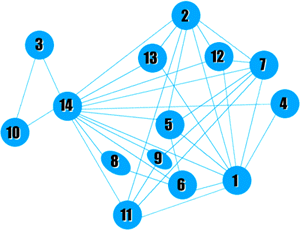 Join us on a journey into the cutting edge of thinking and learning, creating and discovering connections, and cultivating synchronicity.

Welcome to CoreWave's Bead Game II. There's a lot to think about here, and lots of fun to be had. Follow our Guided Tour to help you get started on one of the most fascinating journeys you're likely to ever experience.



Randomizer

Our Bead Games are exercises in the creation and discovery of how we are all connected. We have a discussion board where players (like you) make contributions. Together we string these "beads" on our core wave thread --creating a symphony of ideas.
Game I was completed January 17, and resides in its entirety here.