Main Submission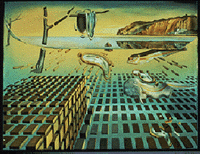 Maya is a Sanskrit word imbued with much meaning. It is "illusion", and the power to create illusions, and yet these illusions are the whole sum and substance of creation. Maya is the divine power by which God deludes aspects of itself into believing that they are separate individual beings experiencing the temporal unfolding of their own experience. Maya is the magic will of God creating all the exquisite dramas of life on all planes of possibility.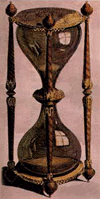 Since Einstien physicists have treated the apparent flow of time as a subjective illusion. Time is seen as another dimension of extension, and nothing can be said to move or change- all time being already existing. I wish I could find an appropriate quote from Einstien to go here as I know he was quite articulate about this.
Recent developments of complexity theory and chaos theory are changing our perception of time again. It is argued that the future of complex systems fluctuates wildly with the most infintesimal changes of the original conditions. Therefore in a sense it does not exist except as a strange attractor toward certain probabilities. (I hope this is not taking too much poetic license with my oversimplification.)
---
Deeper

My own memories disappear into the mists as I look further and further back in time. Perhaps this is not a fault of my memory but the true perception of the past as a mist of possibilities inherently as unknowable as the chaos of the future. If this is so then to "prove" a particular past moment as "having happened" is only to show that there is a trajectory of cause and effect that leads from one imagined situation to the other. Only this moment can be said to be real now, and perhaps it has not "one set past," anymore than it has one set future.
---
Follow Ups
"...space is the relationship between things and other things, while time is the relationship between things and themselves. The time relation thus requires some establishment of identity (between things and themselves) seeing identity is of the essence of time, it follows that when a human being gives himself to a cause, letting his individual identity be absorbed into something larger than himself, he is proportionatly liberating himself from the field of time.....as one's self is swallowed by universality, to a comparable degree one becomes immortal."
-- from Guy Murchie's book, The Seven Mysteries of Life, an Exploration in Science and Philosophy
---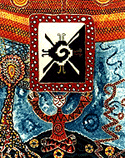 interesting ideas...
time has always been an interesting
thing to ponder

when someone asks me
"what time is it?"
i always answer
"RIGHT NOW!"

in love and light,
hoping to contribute a bead (full submission)
sometime soon

"It is perhaps as difficult to be awakened from a dream as to be born ."

- James Joyce, from Ullysess


http://www.twentytwelve.com/
---
I am another yourself, and I welcome your acknowledgement of the connection to the other Mayans through the calendars of Time.
When is Eternity? Where is Infinity?
Why this body? Why this face?
Why this time? Why this place?
No track of words could ever explain-
Why the burning of the fire?
Why the falling of the rain?